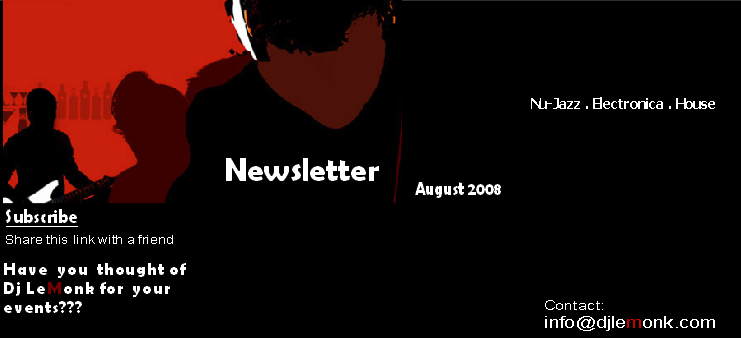 Every Friday + Thursday
August 21 & 28, 2008 at 7:00 PM
L'Assommoir
112 Bernard Street West (corner of St-Urbain)
Montreal, Qc, H2T 2K1, 514-272-0777
www.assommoir.com
Dj Session, Lounge Beat with
Get your first drink for free.
Come see me to get your cocktail card!
Welcome to Dj LeMonk's Newsletter. With this mailing list, you will be informed of Dj LeMonk's upcoming events and activites.

Every Saturday, at 8:00 PM
Caffuccino
1700 King Street West,
Sherbrooke, Qc, J1J 2C9, 819-821-2346
www.caffuccino.com
Dj Session, Electro-Lounge Music with
Come listen to the best Electro & House selection!
House tribal avec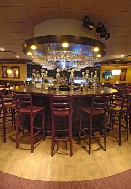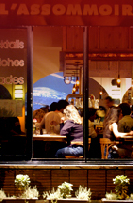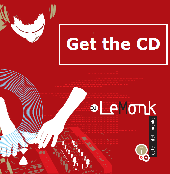 Thursday August 14, 2008, at 7:00 PM
Dj LeMonk at Le Saloon
1333 Ste-Catherine East St. (Beaudry Station)
Montreal, Qc, 514-522-1333
www.lesaloon.ca

Deep House Dj Session with
Come listen to the best lounge selection in a trendy atmosphere.
Contactez-moi pour obtenir votre billet gratuit à
info@djlemonk.com ou au 514-616-3536 . Prix à la porte: 10$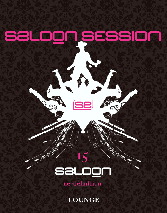 Trailleuse 2008, Free open-air party, july 26
24 Hours of music, dance, party & art starting on Saturday July 26, 2008, at 12:00 PM.
Place: 20100 Boul. Des Acadiens, St-Gregoire (Becancour, Quebec).
Dj LeMonk will present a Dj Session on
Saturday at 4:30 PM
Swimming pool, BBQ, fireworks, camping, fun. More info by clicking on the picture. Free event!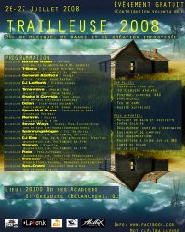 Dj LeMonk at Les Francofolies de Montréal
Dj LeMonk will present a Dj session at Le Savoy du Métropolis (1407 St-Dominique St, Montréal)
Sunday August 27, 2008, 11:30 PM
SOPREF, 10 years! With Dj LeMonk, Maxime Robin,
Dj Capitaine, Cynthia Bellemare, Dj Parklite & Dj TT La Veste. See you there! Free Event!
www.francofolies.com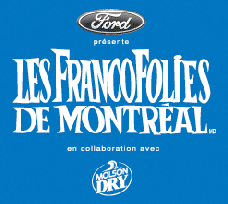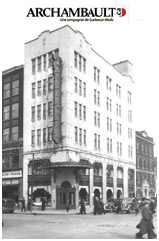 Dj LeMonk's CD available at Archambault Berri
The Café Del Monko Vol.1 CD is now available at Archambault Berri, 500 Ste-Catherine St. East, (at the corner of Berri).
Also, you can order the CD from any Archambault stores.
online at www.djlemonk.com